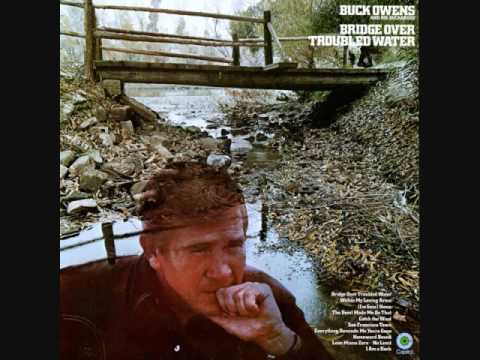 I arrived at Stanford University today for a weeklong seminar. I'm pretty excited about it, especially because I've never been to the Bay Area before. As a young child growing up in the windswept plains of Nebraska, I developed from popular culture fascinations with two cities: New York and San Francisco. I am now, of course, intimately familiar with New York, but never had the chance/time/money to get out here until now.
While there are a lot of great artists from this part of the country, my track of the week is from someone from outside the area singing about it. Country great Buck Owens was the pioneer of the "Bakersfield Sound" in the 1960s, but actually had more broad musical interests than you would think. In the early 70s he put out a fantastic album mostly of folk and rock covers called
Bridge Over Troubled Water.
(
His version of the title track
also happens to be quite good, as is
this amazing cover of Dylan's "Love Plus One-No Limit."
) It showed his interest in the kind of music they didn't play on the Grand Ole Opry, and it might be my favorite of his albums.
There are a lot of songs written about the glories of San Francisco, from Journey's cheesy
"Lights"
to Tony Bennett's
"I Left My Heart In San Francisco."
Owens'
"San Francisco Town"
is different because its story is not just a celebration or statement of homesickness. It is sung from the point of view of a member of the flower power generation down on his luck, homeless, and looking for a bite to eat. Despite his desperate condition, he still pledges his love for San Francisco. He seems to say that he loves the place so much that he's willing to put up with being down and out. Not sure myself if the city is worth the hype, but looking forward this week to finding out.