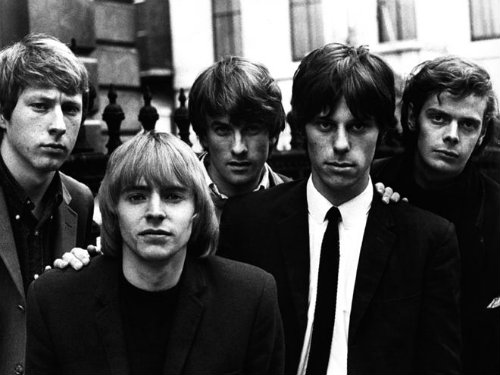 Today is my first day of spring break, and I have more free time stretched out before over the next two weeks than I have had in quite some time. I won't be going anywhere, because my wife's break doesn't coincide with mine, but I'm ecstatic nonetheless in a middle-aged sorta way. I'll be able to get spring cleaning done (both indoor and outdoor), catch up on my reading, and take some long walks.
As lame as that sounds, it's time to have a bit of a rave up tonight. Spring break calls for some good time music, and in moments like this I love to crank up the hard rockin' side of the sixties British Invasion. It is music of such youth and pure exuberance, of young musicians taking the forms of American blues and amping them up with teen hormones and dance rhythms. Apart from the Stones and the Who, no group of that era did it better than The Yardbirds.
The Yardbirds are sadly known more as the launching for Eric Clapton, Jeff Beck, and Jimmy Page, and less as a great band in their own right. Jeff Beck is the least acclaimed of that trio, but the Yardbirds were at their best during his tenure. He hit the ground running in 1965 with his first session, which included the absolute barn burner
"I Ain't Done Wrong."
Unlike most of the group's songs at the time, it was written by a band member (Keith Relf, the singer) rather than being a cover of a blues standard. It starts with a screeching guitar figure that's a dead ringer for Elmore James, announcing Beck's presence with authority. Underlying the song is an absolutely brutal, tight beat backed by harmonica leading to some truly inspiring breaks from Beck. Just when you think it can't get any more intense, at the 2:25 the stabbing guitar and relentless beat practically explode the turntable. It creates the kind of hard-edged ecstatic frenzy that metal bands have been chasing ever since this song crawled out of hard rock's primordial mid-1960s ooze.