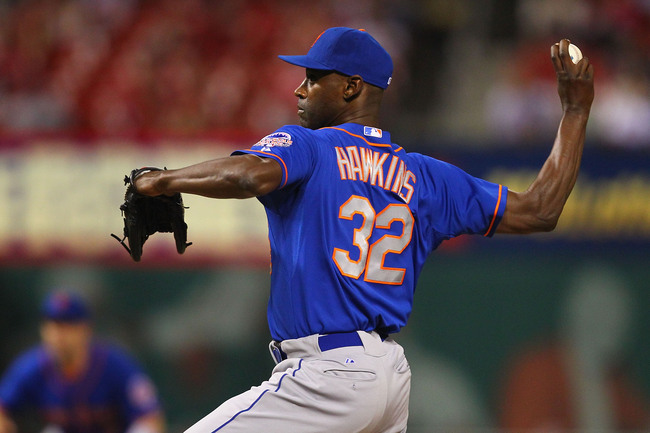 Baseball fans this season are well aware that this will be Mariano Rivera's last. He is perhaps the greatest relief pitcher in the history of baseball, and along with Derek Jeter, the one constant on the Yankees going back to the 1990s. While we are rightfully lauding Rivera for his accomplishments, there is another relief pitcher in his forties who also deserves some praise: LaTroy Hawkins.
He's not a household name and
he has a losing record across his career
, but
there are only twenty-four other pitchers
who have appeared in more games than him in the entire history of baseball. If he appears in just nine more games this season, he'll be number 21 on the list. This is a major accomplishment in a sport where most players who are signed to minor league contracts never play in the bigs, and most who make it to the show don't play more than a handful of seasons. Hawkins, however, is in his nineteenth season at age forty. To put that in perspective, he first started playing in the majors back in 1995, when the internet was for geeks, "The Rachel" dominated hair salons, and
a gallon of gas cost $1.09
.
Hawkins is the classic journeyman. He has bounced from team to team, playing for the Twins, Cubs, Giants, Yankees, Astros, Orioles, Rockies, Brewers, Angels, and now the Mets. He began his career as a starter, and the stats show a lot of struggles. He then moved on to relief pitching as a closer for a short time, and then to middle relief, baseball's ultimate yeoman's work. He thrived in that role, although took a lot of fan abuse during his time with the Cubs, despite being a local guy from Gary. With the Cubs' closer Joe Borowski injured in 2004, Hawkins was tapped by manager Dusty Baker, even though he had struggled in the closing role. Hawkins blew saves in some crucial games, which led to him getting booed and abused by Cubs fans in a way that I'd never seen before. The Cubs faithful are notoriously laid-back and willing to accept losing, yet they jumped all over Hawkins, even accusing him of shirking. This is odd, considering that he has appeared in so many games, season after season. It could be argued that the intensity of the ire directed at Hawkins is par for the course for Cubs fans when comes to how they treat black baseball players.
Hawkins has pitched for almost a decade since leaving the Cubs without drawing a whole lot of attention to himself. He's done what a journeyman does: play well enough to stay in the majors, and bounce around to whatever team needs your services. It certainly isn't as glamorous as being an ace starter or shut-down closer, but doing it for nineteen years is just as impressive. Let's face it, the vast majority of use are not stars, we are journeymen and journeywomen who rarely get much attention or praise for our daily toil. We don't do our jobs for fame and recognition, but still want to do them right. So I tip my hat to LaTroy Hawkins, from one journeyman to another.